The RangeXTD WIFI Router is a wireless device that plugs into any outlet and provides better WIFI coverage at a faster speed for your office, home, or areas that require an extended internet connection. The RangeXTD is compatible with standard WIFI routers and keeps multiple devices connected for uninterrupted streaming and faster downloading. The unit is small, compact, portable, and ideal for travel.
MORE POWER THAN EVER BEFORE
RangeXTD features an all new ultra-powerful design with two built-in antennas, dual LAN ports, and an easy-to-read signal strength indicator.
CONNECT ANYWHERE & EVERYWHERE
RangeXTD turns your whole house into a WIFI hotspot, so you can move from room to room or even to the backyard and stay connected the entire time.
CREATE YOUR OWN WIRELESS NETWORK
In addition to extending your home WIFI signal, RangeXTD also functions as a router and an access point, which makes it perfect for travel and business trips.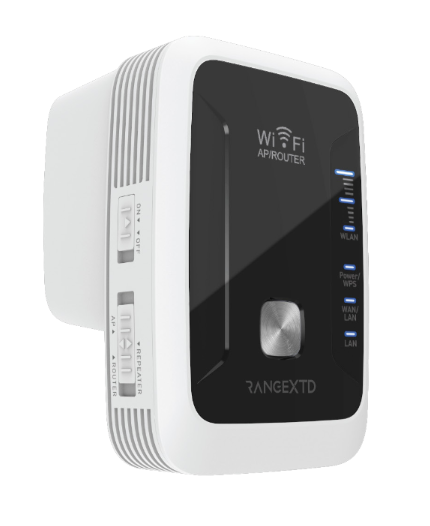 Features:
Boost WIFI signal range and eliminate dead spots

Fast 2.4G data transfer up to 300MBPS

Portable design with an easy set up

2 Built-in 3D antennas with increased range coverage

Secure WPS connectivity button for WPS enabled modem

3 stage WIFI strength indicator (strong, normal, weak connection)

Multiple connection modes (router mode, repeater mode, access point mode)

Built-in housing ventilation to prevent overheating.

Physical power on off slider switch